CPM Magnacut Alloy Chart from Crucible Data Sheet
CPM Magnacut Advertisement. Credit KnifeSteelNerds.com
CPM Magnacut comparison chart showing relative properties to similar knife steels. (Source: Crucible Data Sheet)
MagnaCut Properties
According to Dr. Thomas, "MagnaCut offers a higher level of toughness, wear resistance, and corrosion resistance than previous stainless knife steels. This makes it very versatile with a wide range of knives. The high toughness and potential hardness makes it
very good for thin folders and kitchen knives
. That same toughness is also great in "hard use" blades. And the excellent corrosion resistance means low maintenance and the steel even does fine with occasional exposure to saltwater."
Toughness
This stainless steel has toughness on par with some of the most impressive tool steels, like CruWear, CPM 3V, and CPM 4V. This is stainless steel that can take a beating at a level that has only been experienced on more niche steels like 3V and 4V. According to Thomas, "The new design eliminating chromium carbides gives MagnaCut a much better edge retention-toughness balance than previous PM stainless steels, and performs similar to the best non-stainless PM steels." The presence of smaller and harder vanadium/niobium carbides, along with the CPM process, provides increased strength while eliminating the larger and more fragile chromium carbides.
Thomas Commented, "One of the main innovations of MagnaCut is it is designed to mimic the microstructure of the best non-stainless steels like Vanadis 4 Extra and CPM-4V. The chromium content was reduced in combination with balanced carbon content so that all of the chromium is "in solution" for corrosion resistance while avoiding the formation of chromium carbides. A large chromium carbide content is found in other powder metallurgy stainless steels which reduces toughness and corrosion resistance. Instead, MagnaCut only has small, high hardness vanadium and niobium carbides which leads to a better balance of toughness and wear resistance. "
Edge Retention
Due to the high hardness of the MagnaCut, the edge retention is excellent. According to industry standardized CATRA edge retention testing, Magnacut holds an edge in the range between S35VN and S45VN steels. MagnaCut easily bests those two types of steel in toughness and corrosion resistance. There is also anecdotal evidence that Magnacut is easier to sharpen, likely due to the finer vanadium-cutting carbides.
Corrosion Resistance
A huge surprise and added benefit with Magnacut is the extreme rust resistance. In my opinion, it is the highest performing very-stainless steel on the knife market. Magnacut should be the steel of choice for wet, humid, or coastal environments. It provides the user with a first-class edge retention and amazing toughness in a highly rust-resistant material. If you live on the coast or in the tropics, Magnacut would be my choice for heavy-use knife steel. According to Thomas, "Chromium is what makes stainless steel stainless, it forms a chromium oxide layer at the surface which prevents rust."
Heat Treatment
Due to its toughness, the recommended heat treatment of MagnaCut is on the high-end of hardness for knife steels. It ranges between 60-64 HRC.
According to the Crucible steel datasheet, the optimal balanced heat treatment with a balance of toughness is 62.5 HRC.
For some Japanese kitchen knives, where edge toughness is less important, Thomas indicates that MagnaCut can be heat treated to 62-64.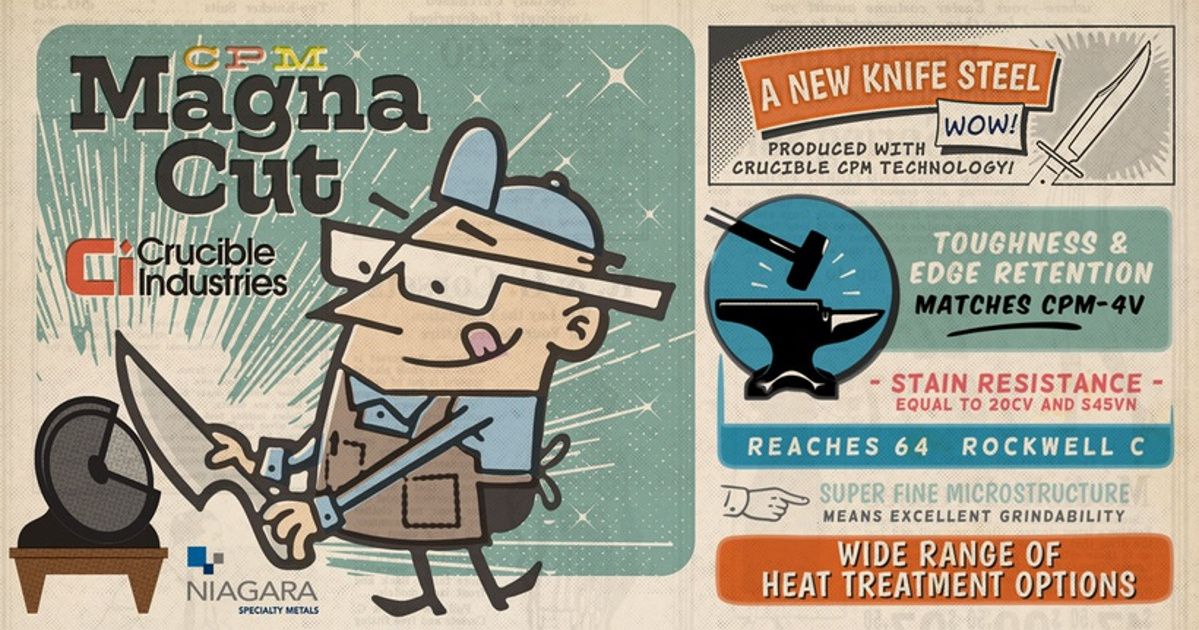 CPM Magnacut Advertisement. Credit KnifeSteelNerds.com